All after-school activities this evening, September 22, 2023, are canceled.

Middlesex Athletics for the Week of September 25-30, 2023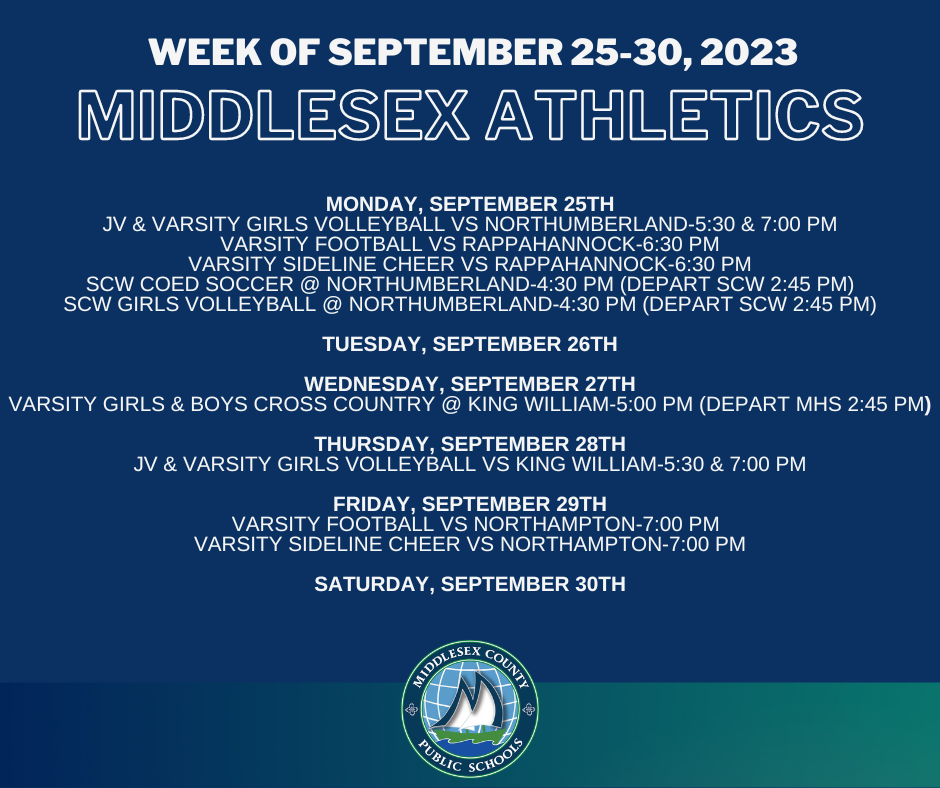 Good morning! All after school activities and practices are cancelled this afternoon, Friday, 9/22/23. There is no school for students on Monday, 9/25/23. The schedule next week is: Tuesday, 9/26 - A Day Wednesday, 9/27 - B Day Thursday, 9/28 - A Day Friday, 9/29 - B Day Have a great weekend and stay safe!
Due to the weather forecast, tomorrow night's home football game against Rappahannock has been moved to Monday, September 25th at 6:30 PM.
The football game scheduled for this Friday night is still going to be played.
Good afternoon. Due to the weather forecast for this Friday and the increased chance of rain and wind, MHS is changing the homecoming events planned for this Friday. The homecoming parade, presentation of the homecoming court, crowning of the king and queen, and the dance will be moved to Friday, October 13, 2023. We will have spirit week October 9th through October 13th, and we will have a pep rally on Friday, October 13th. Students who have already bought tickets to the dance are on the list for the dance on October 13th. Thanks for your understanding and support.
The JV football game scheduled for tomorrow, September 20, 2023, has been cancelled.
The JV and varsity volleyball games are cancelled for tonight, Monday, September 18, 2023. We apologize for any inconvenience.
Good morning, again. The source of the smell in the building has been found and resolved. All students are safely back in the building. We are thankful to members of the fire department for their quick response and to our team at MHS for their help and support.
Good morning. There is an odor at MHS in the building that has initiated a drill procedure. All MHS students are outside of the building with staff until we can safely clear the building. Out of an abundance of caution, students will only re-enter the building one it has been safely cleared. We will keep you up to date with information.
Gates open at 6:00 PM for tonight's home football game against Lancaster. The game starts at 7:00 PM. No bags are allowed except diaper bags and small purses.
Middlesex Athletic Events for the Week of September 18-23, 2023 Go Chargers!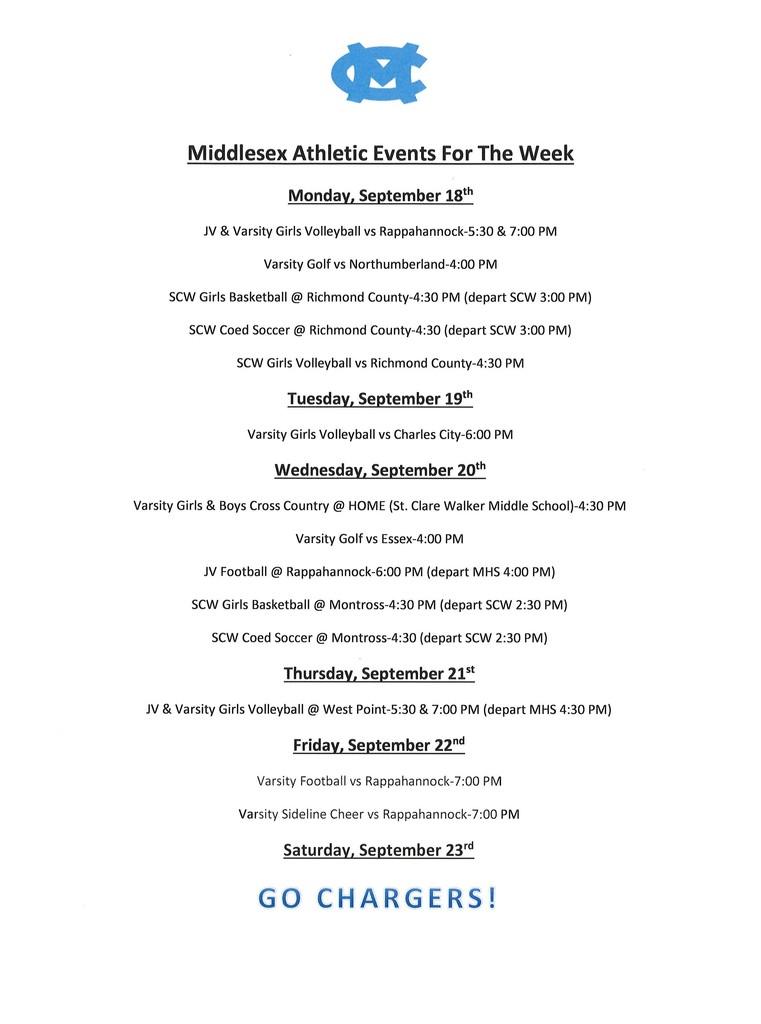 Virginia's School Quality Profiles provide information about student achievement, college and career readiness, program completion, school safety, teacher quality and other topics of interest to parents and the general public. Report cards are available for schools, school divisions and for the commonwealth. Follow this link to view the profiles for MCPS:
https://schoolquality.virginia.gov/
Monday, September 18th JV & Varsity Girls' Volleyball vs Rappahannock-5:30 & 7:00 PM Varsity Golf vs Northumberland-4:00 PM Tuesday, September 19th Varsity Girls' Volleyball vs Charles City-6:00 PM Wednesday, September 20th Varsity Girls' & Boys' Cross Country @ HOME (St. Clare Walker Middle School)-4:30 PM Varsity Golf vs Essex-4:00 PM JV Football @ Rappahannock-6:00 PM (depart MHS 4:00 PM) Thursday, September 21st JV & Varsity Girls' Volleyball @ West Point-5:30 & 7:00 PM (depart MHS 4:30 PM) Friday, September 22nd Varsity Football vs Rappahannock-7:00 PM Varsity Sideline Cheer vs Rappahannock-7:00 PM
Congratulations to Alexis Alley on her award for earning national recognition from the College Board!
Tonight is the parent/student driver education program at MHS. We will be holding a 90 minute parent/student driving presentation. It will be held in the auditorium at MHS from 6:00-7:30 PM. This is a new parent component/requirement from the Virginia Department of Education. If you cannot attend, then you will need to sign the parental opt-out form, which is attached. We also have forms in the office. A form was sent home with all sophomore two weeks ago. If a parent/guardian cannot attend, the student will still need to complete the 90 minute education program. We encourage a parent/guardian and the student to attend tonight's meeting.
Here is the list of spirit day themes for Homecoming week. Homecoming week is Monday, 9/18/23 through Friday, 9/22/23. The parade is Friday, 9/22/23 at 5:30 PM (from the courthouse to MHS) followed by the game at 7:00 PM and the crowning of the king and queen at halftime. The dance will be in the gym until 10:30 PM on 9/22/23. Tickets are $5 each and must be purchased in advance at the school. Monday- USA day - wear red, white, and blue Tuesday- jersey day - wear your favorite team jersey Wednesday- country club vs. western day - dress up or dress in western style clothes Thursday- neon day - wear a bright, neon color Friday- Charger pride - wear blue and white
Picture day was last week at MHS. In case your student didn't bring home information, here is what you need to view and order photos. Simply visit
www.YoursTrulyPhoto.com
and go to order school photos. When prompted for an online code, enter your student's 5 digit lunch number. Makeup day is this Wednesday. Grades 9-11 have until 10/1/23 to go online and select your favorite picture for the yearbook. Seniors have until 11/1/23. If you have any questions, parents and guardians may call or text Yours Truly Photography directly at 804-436-0200.
Lady Chargers Pink Out Night We are adding some Pink to support Breast Cancer Awareness! -Tuesday October 10th @ MHS -Orders to be placed by September 25th -Orders must be accompanied with payment -Checks Payable to MHS - Contact Christy Bruce with any questions @
christybruce30@gmail.com
Name: ______________________________ Phone: ______________________________ Email: _______________________________ Best way to reach you? Phone or Email Sizes/Prices: Please indicate number of t-shirts Adult $20.00 _______ Small _______ Medium _______ Large _______ X-Large _______ XXL _______ XXXL